Vintage Pocketknives-Antique Collectible Folders
Collecting older, vintage pocket knives is a very popular hobby in the USA. Some great sources for these lost treasures are the weekend yard sales, flea markets and estate sales.
It is not uncommon to find an old CASE XX, Browning or Uncle Henry folder lying on the corner of a table at these sales. I have friends who have found vintage 1930s Cataragus knives from Little Valley, NY and even Carl Schlieper lock-blades from Solingen Germany. Indeed there are some beautiful knives to found at these places if you have the time and patience.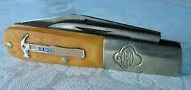 Another great source for antique and vintage knives is eBay! While the weekend yard sales and auctions can be worthwhile, they most definitely take up a lot of your valuable time. This problem is solved when you shop for collectible pocket knives on eBay.
If you are new to the eBay experience, get ready to be overwhelmed, in a good way! Its very easy to register and start shopping. You do not need to register to check out the amazing selection of these old collectible knives, but you will not be able to purchase unless you sign up. I suggest you do, it only takes a minute!
"The best selection of Vintage Pocket Knives are hiding out on eBay!"
There are a lot of collectors buying & selling on this auction giant. This is good for avid collectors seeking specific pieces for their collection. Where else on the planet can you search for and locate a specific brand "hard to find" antique folding knife in seconds? Probably nowhere!
Vintage collectible Buck & Case pocket knife deals are easily found on eBay!
Can you find a "steal" of a deal on eBay? Yes, you can, but you've got to be quick on the draw! By a steal of a deal, I'm talking about something like a 1920s Vintage Remington, Bertram Hen & Rooster, Pocket Eze Spring back folder or a George Schrade Presto pocket knife for $25.00! These windfalls are rare, but they do happen, every week!
Deals like that only happen when a non collector finds a stash of old dust covered pocket knives from a deceased Uncle, Father or Grandfather's collection, usually in an old shoebox or rusted toolbox. These kinds of finds are often posted on eBay since the new owner has no interest in them, yet realizes there might be some value. If they happen to create "Buy it Now" listings (rather than auctions) and you happen to see it first, that's how you get the steals!
Boy Scouts of America collectible knives are popular on eBay!
Finding standard collectibles from the popular brands of years gone bye is easy. Brands like Case, Buck, Boker, Old Timer, Schrade and Imperial are found and purchased at fair market prices everyday! The best part is you can shop from your home and you don't have to drive around all day wasting gas money and time!
There's also plenty of NOS (new old stock) pocket knives being offered. Often times an old fashioned family hardware store will go out of business and un-opened stock can be found hidden in the back room. Talk about treasure! Finds like these are often vintage 1980's with brands like Fight'n Rooster, 5 or 7 Dot Case hunting knives, Parker or Buck Pony or Maverick Stags. Occasionally you might find NOS like a 1950's Queen Steel USA, 1960s Schmidt & Ziegler German Bull or even some 1920s Remington models like the Pocket Jack. Most of the NOS will be from the 1970s through the early 2000's.
I'm not a big collector of vintage pocket knives, although I do have some. (I buy mostly new knives that will be vintage collectibles someday!) Even so, I wanted to post this information about eBay because there are many pocket knife enthusiasts out there who have never even seen the huge selection eBay has to offer! If you collect, you need to visit the site and see for yourself what's going on there.
Not only can you buy, you can sell! It's a great trading opportunity for any collector and the vintage pocket knife category is a happening community for experts and novices alike. Happy collecting!
Beautiful vintage pocket knives like these are bought and sold everyday on eBay!
Find a huge selection of vintage collectible Pocket Knives on eBay at bargain prices!"