Case Pocket Knives
Case Pocketknives
The W.R. Case & Sons Cutlery Company can be traced back to 1889 when four brothers discovered that they could make a living by producing and selling knives. William Russell, Jean, John and Andrew Case sold their knives to wagon trail travelers in upstate New York. William Russell, or W.R., had a son named John Russell who established the W.R. Case & Sons Company around the beginning of the 20th century. W.R Case helped his son launch the business. By working together, father and son were able to build a company that became known for supplying superior cutlery.
The Zippo Manufacturing Company now owns Case. Over the years, a number of major print publications, broadcast television shows and movies have recognized W.R. Case & Sons Cutlery with awards and features.
Case Production Details
The company reports that 125 different artisans craft one knife. Therefore, knife enthusiasts can feel confident that they are purchasing a quality product from Case. The company highlights its revolutionary spirit with several of its original knife patterns, which include the CopperLock, Hunter Trapper and Baby Doc. The Case Company's artisans begin the process of developing a knife with the handle. The company uses different materials, such as buffalo horn, mother-of-pearl, exotic woods and Brazilian cattle bone, to form its knife handles. Artisans add silver components, brass or nickel to augment each tool. As a result, Case knives are attractive and durable. Moreover, the company wants people to admire and use them.
Why Case Knives are Collectible
The company uses a distinctive tang stamp to date its knives. In fact, it used the coding system early in its history, and since people could identify the company's first tools, they found that Case knives were easy to collect. Early Case knives feature the tang stamp of "Case Brothers" or "W.R. Case and Sons." Another common stamp is "Case Tested." Modern editions are stamped with "Case XX" or "Case XX USA."
---
Find the Best Selection of vintage Case Knives hiding out on eBay at Low Bargain Prices
---
Case also produces knives under licensing contracts with well-known American icons. For instance, consumers can buy knives that feature Johnny Cash, Elvis Presley and John Wayne. The company also makes commemorative knives with logos from the Boy Scouts of America, John Deere and the National Wild Turkey Federation.
Best Case Knife Patterns
The Trapper pattern is one of the Case Company's most popular knife models. A full-size Trapper knife features a spey and clip blade. In addition, the knife style's blades are more than 3 inches long. The cutting tool's total length is 4 1/8 inches when it is in the closed position. Most people use one blade for tough jobs while the other one is used for intricate tasks that require a sharp blade. The Case Company also manufactures smaller Trapper models.
Two nice Trappers including a Harley G-10
The Stockman is another Case knife that features an appealing pattern. People who prefer using a traditional knife typically purchase a Trapper or Stockman. The Stockman includes a clip, sheepsfoot and spey blade. The edition was originally manufactured as a rancher's knife, but today, people use it for general tasks as well as during hunting and fishing excursions. Case produces the Stockman knife in small, medium and large sizes. However, most people purchase a medium or large model.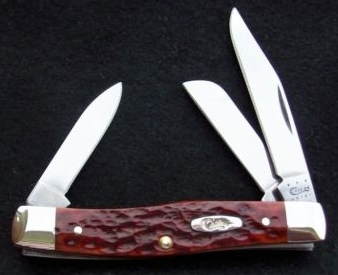 The Case Stockmandesign is recognized worldwide
The Case Company also develops the Sodbuster knife
, which is a basic work tool. The knife style is affordable, and it measures about 4 5/8 inches long. The Sodbuster folds for convenience, and the company manufactures the style with handles made from a variety of materials.
The Sodbuster knife is a popular Case collectilbe
The Copperhead knife is a two-bladed Case knife that is smaller than some of the company's other cutting tools. The model is ideal for people who need a traditional knife for basic cutting tasks.
Two CASE Copperhead pocket knives
When knife consumers are interested in purchasing a small cutting tool, they should consider buying a Peanut Case knife
. It is ideal for craftsmen who enjoy the art of whittling. The Peanut knife is also helpful for cutting twine, small boxes or sharpening craft pencils.
Collectible Case Knives
The Case XX Yellowhorse knife is one of the company's collectible knives as it features beauty and artistry. David Yellowhorse, who is a popular Navajo silversmith, crafted the knife. The handle is made from burnt worm groove bone, and the blades are manufactured from nickel silver. It also has Mr. Yellowhorse's signature on the handle.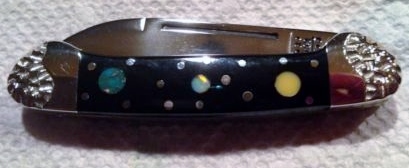 Tony Bose is another famous custom knife crafter. Mr. Bose has designed several models for the Case Company. For instance, in 2001, the award-winning artisan developed the Sowbelly knife, and in 2004, he produced the Saddlehorn. Later, in 2008, Mr. Bose made the Sway Back Jack Gent along with the BackPocket knife.
Four beautiful Tony Bose pocket knife designs. Any of these would look great in my collection!
Reasons to Collect Case Knives Case knives are highly collectible since the company is known for making quality products. Some editions are commemorative while others have picturesque elements. Furthermore, master artisans work together to make the company's knives, which increases their value and resilience.